About Us
Phil Jackson has worked in the creative industries for over three decades using traditional fretwork techniques. Over that time he has produced varied collections of work, beginning with hand-painted wooden animal brooches, to textile covered letters and more recently oak domestic ware. He has also developed an ever-popular range of handmade greetings cards decorated with painted wooden animals.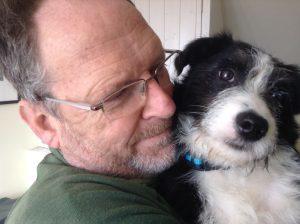 Originally trained as special needs teacher Phil has worked self-employed as a fret worker for 35 years. Setting up in Gloucestershire, he moved to rural Herefordshire in 1987. Over that time he has done retail shows alongside large bespoke orders for the trade, such as John Lewis, WH Smith, many independent retailers as well as major educational toy companies.
More recently he has been concentrating on textile covered wooden letters for children's name plaques. Each letter is hand-cut on a powered fretsaw, giving them a clean fresh look unique to hand cut work. He uses European birch ply from managed forests. He also supplies simple wooden boards for the letters in three pastel shades.
Phil's latest work includes pot stands (trivets), coasters and serving platters from repurposed English oak. They are individually cut and are designed in-house (by Mrs Beamers) using old-school techniques of pen and pencil. They are sealed with food-safe oils.
This latest collection is ever-growing as Phil will always consider bespoke requests from customers. He supplies a number of galleries and independent shops throughout the UK but is also happy to deal directly with customer enquiries.